Engineering and Technology Exhibition.
The 2022 Engineering and Technology Exhibition in Rotherham was great!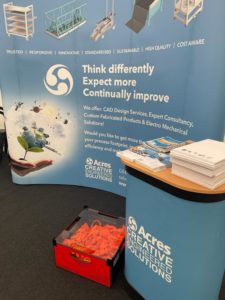 Advanced Manufacturing Park (AMP) is where most sectors in the field are developing. They partnered with Nuclear AMRC- celebrating their 10th Anniversary this May and The University of Sheffield Advanced Manufacturing Research Centre (AMRC) to promote technology transfer and innovation whilst allowing time for sharing and networking between multiple industries.
The event brought together engineers, technologists, scientists and other key representatives from companies into an environment to meet with exhibiting suppliers, view product demonstrations and talk about problem solutions.
AMP is internationally recognised for its innovative research and manufacturing processes. Attracting world leading companies such as
Rolls Royce- Aerospace
McLaren- Automotive
British Steel
all of which were invited to the 25th of May Exhibition Event.
Acres thought the event was fantastic.
Original and helpful, the exhibition was amazing to begin relationships with potential suppliers and customers. We spoke to businesses such as Royal Tool Control Ltd , Lista and Interface Precision Engineering  about cross-over work which will be beneficial to both companies.
The unique venue was fun for an engineering event and we enjoyed the experience. We hope everyone else liked it as much as we did!