Raising £485 for the SSAFA
We take pride in doing what we can to support the charities that mean the most to us at Acres. The SSAFA helps support those who have bravely served our country in the armed forces with therapy and financial support, ensuring they have equal opportunities.
Our Managing Director, Luke Parker raised £485 in a week of fundraising for the SSAFA after receiving a "bucket list" birthday present from his wife.
Norman Hodges, Branch Chairman of SSAFA commented "We are very grateful to Luke, MD Acres Engineering in choosing SSAFA the Armed Forces charity, to benefit from his first parachute decent. SSAFA provides lifelong support to those serving in our Armed Forces, veterans, and their families, and we congratulate Luke on his sterling effort which is much appreciated". 
Langar airfield, as a British Skydiving affiliated centre operates to the highest safety standards. The team of staff at Langar have tens of thousands of skydives between them, and decades of experience in the sport. If you want to experience the thrill of Sky Diving or learn a new hobby, Skydive Langar is the place to do it! A Tandem skydive allows you to experience the thrill of freefall skydiving with just a brief training session. You will skydive harnessed to the front of a fully qualified parachuting instructor from 14,000ft. You will enjoy an adrenaline packed freefall reaching terminal velocity at 120mph, followed by approximately 5 minutes flying gently to the ground under the parachute.
Bruce Spencer Regional Employer Engagement Director for the Ministry of Defence commented "It was wonderful to see Acres Engineering support SSAFA, with Luke leading with his first ever parachute jump. Great support of the armed forces family which everyone applauds".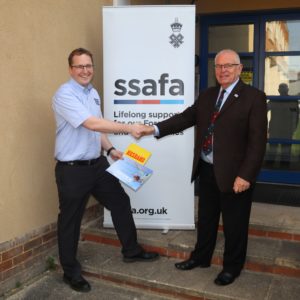 A video of Luke's skydive can be seen here:
https://www.linkedin.com/posts/luke-parker-2aa08740_skydiving-thankyou-ssafa-activity-6906592203951738881-IJSw?utm_source=linkedin_share&utm_medium=member_desktop_web
You can read more about the fantastic work that SSAFA do here:
https://www.ssafa.org.uk/?gclid=EAIaIQobChMIt6TBt_zK9gIVCbbtCh1gIgDSEAAYASAAEgLyXvD_BwE&gclsrc=aw.ds