Allestree Park bench back in action….
Allestree Park in Derby, England, is the largest and most scenic of the City's parks. Although lying on the northern boundary of the city of Derby, it merges with the attractive hilly countryside of the south Peak District fringe.
Back in April a park bench suffered damage from acts of vandalism.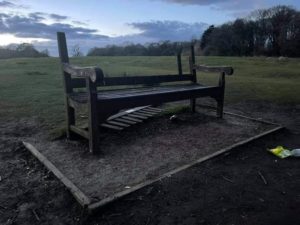 Managing Director Luke Parker spotted a request for help on the social media platform Facebook by the Friends of Allestree Park and immediately offered support. The Friends of Allestree Park group was founded in 2005 and is open to anyone who is interested in Allestree Park, its conservation, educational and recreational value.
Acres Engineering offered to design and manufacture a replacement bench free of charge so that the community were not robbed of such a wonderful scenic seating spot.
Mr Winslow from Derby Parks Team commented 'thank you to the team at Acres Engineering for fabricating a park bench from scratch to replace one that was vandalised on Allestree Park. The Derby Parks team, Friends of Allestree Park and park users are all grateful for the replacement, especially because it has one of the best views on the park'.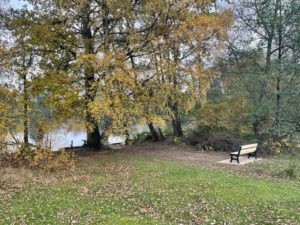 The history of the Park goes back to the late 18th century when the present Hall was built. The Hall is now largely empty, being the subject of several abandoned schemes in recent years, one of them being a nature museum project. The Park is largely used for quiet recreation by Derby's people, who can enjoy a variety of interesting walks, including two nature trails. It is easy to 'get away from it all' in this splendid park and it is not obvious, when walking in its woodlands and meadows, that it lies within the boundary of an industrial city.
There is a wealth of wildlife in the Park, including several county rarities. This variety is partly the result of a varied underlying geology, largely acidic sandstone on the west side, soft crumbly shales in the centre and east.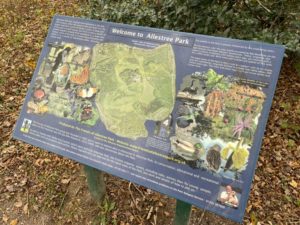 The donated replacement bench was made from robust steel box, and plates cut on a laser cutting machine that Acres have recently invested in. The bench was then powder coated at Acres in house powder coating cell and assembled prior to delivery. The timber fitted is standard off the shelf treated wood which can be easily replaced in the future at any time for low cost maintenance. Thanks goes to members of the Acres team involved in this CSR project.
Acres is committed to corporate social responsibility (CSR). We aim to have a positive and active relationship with our local community.
Find out more information about the park and the friends of the Allestree Park group here:
https://www.friendsofallestreepark.org.uk/
https://www.bbc.co.uk/news/uk-england-derbyshire-59248186
https://www.visitderby.co.uk/things-to-do/parks-outdoors/allestree-park