Bobsleigh Time at St Wystan's
Forget the Jamaican Bobsled Team, the children at St Wystan's had an extraordinary experience of Great Britain Bobsleigh Team BOBTEAM STANBRIDGE visiting their school to talk about all things Bobsleigh.
On the run up to the STEM event, the children were asked to colour in a picture of a Bobsled, or to design their own. The standard of the 46 entries was exceptionally high, with one student even producing multiple engineering drawings of their proposed sled. John Stanbridge and his teammate Alex Cartagena judged the competition. Medals were awarded, bronze, silver, and gold, to two age categories, Year 1-4 and Year 5-6. The medals were designed, manufactured and donated by Acres Engineering. Many congratulations to Morgan (Year 3) and George (Year 5), who walked away with the gold medals.
Feel the rhythm! Feel the rhyme! Get on up, it's bobsleigh time!
During the event John and Alex explained the explosive push start and how they enter the sled when racing. They also passed around their racing equipment, their protective Kevlar jackets and helmets that kept them safe, and demonstrated how the pilot steers the sled on the track.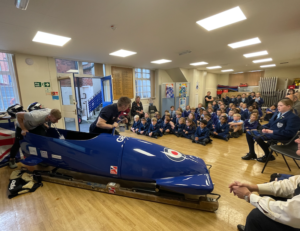 Luke Parker, Managing Director at Acres Engineering who initiated the event commented "it was fantastic to hear the children gasp in excitement when the bob sled was unveiled and to see how engaged they were during the event. It was a real privilege to help facilitate the event, allowing the children to learn all things bob sled. John's message about overcoming fears and being committed to achieving goals was well-received and could be applied to any activity. Who knows, we may have inspired future bobsleigh pilot stars. "
The children showed just how engaged they were with a wide range of questions during the Q&A session. The questions included:
Why is it called a Bob Sled?
How do you make it fast?
How do two men push the Sled?
How do you not slip over on the ice?
Why are you called a pilot?
How does the sled not fall when it goes up on the sides of the track?
Do you wear special clothes?
Do you ever get scared?
When's the next race and where is it?
Do you have a name for your bobsleigh?
Have you ever broken a bone?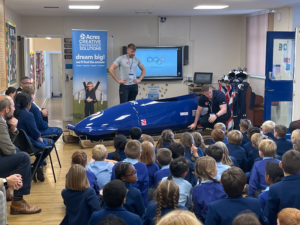 John Stanbridge from BOBTEAM STANBRIDGE is also an Aircraft Avionics Supervisor in the RAF. He works hard in his spare time as a semi-professional athlete. John commented "It was an amazing experience to display our team sled with the students at St Wystan's school. They are a very inquisitive and engaging group of children, I was tremendously impressed by the thought they put into their sled designs which it made it really hard for us to choose winners."
BOBTEAM STANBRIDGE are targeting to qualify for the 2026 Winter Olympics. They will next be competing in Lillehammer, Norway on the European Cup circuit. You can follow the race on 12th November 2021 here: www.gbbobsleigh.co.uk
Acres Engineering have been a proud sponsor of BOBTEAM STANBRIDGE, designing and manufacturing custom equipment such as training sleds to help them on their journey to their Olympic dream.
Jeff Shipway Head Teacher at St Wystan's closed the event which was thoroughly enjoyed by the children and teachers alike. Mr Shipway commented "The pupils were clearly excited and inspired by the event, and were full of interesting questions for John and Alex. Had I not drawn a line under proceedings, it could have continued for hours! At the end of the School day, the bobsleigh was displayed in the playground for our parents to see. I would like to thank John and Alex for coming and for making our pupils more aware of this exciting sport. I would also like to thank Mr Parker for facilitating the visit, and for the design and manufacture the medals."
If you are interested in hosting your own STEM event or corporate entertainment event, or would like to become a sponsor, please contact John on: [email protected]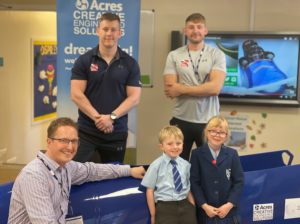 STEM is science, technology, engineering, and maths. These are all areas of learning that our children will need to excel in the future. STEM subjects make creators, thinkers, problem solvers, doers, innovators, and inventors.
Learn more about St Wystan's here: https://www.stwystans.org.uk