BOBTEAM STANBRIDGE Visit Acres Engineering
A big thank you to BOBTEAM STANBRIDGE who visited site to allow us to see them applying our logo to their sled ahead of their winter 2021 season.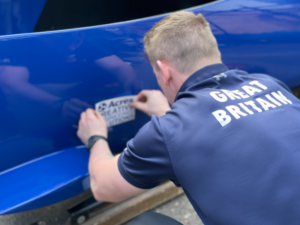 John Stanbridge from BOBTEAM STANBRIDGE is also an Aircraft Avionics Supervisor in the RAF. He works hard in his spare time as a semi-professional athlete.
The team thoroughly enjoyed the visit and especially the opportunity to sit inside a real bob sled.
BOBTEAM STANBRIDGE are targeting to qualify for the 2026 Winter Olympics. They will next be competing in Lillehammer, Norway on the European Cup circuit. You can follow the race on 12th November 2021 here: www.gbbobsleigh.co.uk
If you are interested in hosting your own STEM event or corporate entertainment event, or would like to become a sponsor, please contact John on: [email protected]