Congratulations to Lindsay after Daring Charity Abseil
Congratulations to Lindsay Keeling who took on an adventurous challenge to abseil from the second highest cathedral tower in the country.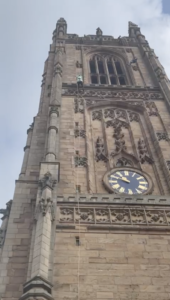 Lindsay climbed the 189 steps of the historic 212ft high tower and enjoyed the finest views of Derby city center before stepping over the edge to abseil for charity.
We are exceptionally proud of Lindsay who has gone out of her way and challenged herself in order to raise money for When you Wish upon a Star children's charity who aim to grant the wishes of children living with a life threatening illness. https://www.whenyouwishuponastar.org.uk/
You can donate to Lindsay's JustGiving page by clicking here: https://www.justgiving.com/fundraising/lindsay-keeling1?utm_source=Sharethis&utm_medium=fundraising&utm_content=lindsay-keeling1&utm_campaign=pfp-email&utm_term=241188190257430fb5fbbda3d31554ce.