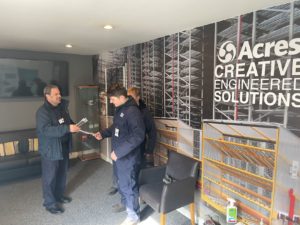 On call firefighters are members of the community who are paid to respond to emergencies
Sean Jones came to talk to our employees about becoming On-Call Firefighters. The On-Call Firefighters career path allows employees to make an agreement with their employer and allocate a set amount of time each week to commit to an emergency, whilst still remaining in full time employment.
On-Call Firefighters are invaluable to the fire service team as a whole, they only head to the station when needed in an emergency and are not responsible for staffing the station 24 hours a day. They provide extra support to the fire service and are able to quickly respond to the fire station within 5 minutes of an emergency call.
We are committed to our local county of Derbyshire and honored to have our site of operations based in Melbourne. Therefore we want to bring value to the community where we can and the On-Call Firefighters career path is a fantastic prospect for some of our employees.
Contact Sean on 07954374840 if you are interested in joining up.
Read more about the remarkable work the Derbyshire Fire Service does here: https://www.derbys-fire.gov.uk/careers/become-a-firefighter/on-call-firefighter