The bag sealer trolley has been designed and manufactured in house.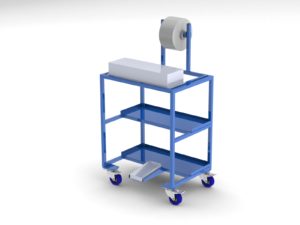 The aim of the trolley is to support rolls of plastic wrapping material, a mount for the sealing unit, and a mid shelf for a kanban of spare rolls.
Features
The trolley is manufactured using 25mm box section with a thin wall to provide optimum strength vs weight solution.
Formed up mild steel sheet has been attached to the box section for storage. A formed up mild steel tray is also
attached to the box section for space for the pedal.
In order to allow the trolley to be positioned very easily, the trolley is fitted with 4 off 100mm swivel brake castors. As a result, the trolley can reach even areas with restricted amount of space. Finally, the trolley is locked safely in position.
Benefits 
As bags are already stored on a spindle, they are easily accessible when using machine.
Being trolley mounted allows the bag sealer is manoeuvrable, this means it can be placed in any desired area.
The 'bagging' process is faster, easier and more efficient.
Have a design and development project you want the Acres team to look at? Can't see what you want? Need something different?
Acres Engineering is established as a leader in delivering bespoke creative engineered solutions. Many OEM's and tier one/ two suppliers in aerospace, automotive, rail and power generation industries have chosen us as their solutions partner because of our innovative attitude towards individual challenges and commitment to continual improvement.