Baggage Trolley
The Baggage Trolley has been designed and manufactured for a major London airport to securely store and transport passengers' bags.
The framework has been manufactured from 25 x 25 steel box section to provide a strong, lightweight structure.  The base is a robust combination of 5mm steel sheet and 100 x 50 steel box section stiffeners. The handles are smooth 25mm diameter tubes, perfect for gripping.
Durable plastic panels and removable PVC cover act to ensure bags do not fall out and are protected during transport. The cover can be locked at the base, securing the trolley's contents if the trolley must be left unattended. The battery operated beacon increases visibility during operation, encouraging a safe work environment. The unit features large handles on both sides and four swivel brake castors to allow the operator to manoeuvre the trolley easily.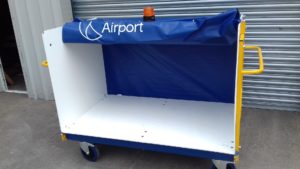 The trolley is capable of safely transporting up to 300kg.
The maximum storage size is 1495mm (L) x 900mm (W) x 800mm (H).
The unit has been powder coated to provide a hard wearing, long lasting finish with the side railing in yellow and the base in blue.
Have a design and development project you want the Acres team to look at? Can't see what you want? Need something different?
Acres Engineering is established as a leader in delivering bespoke creative engineered solutions. Many OEM's and tier one/ two suppliers in aerospace, automotive, rail and power generation industries have chosen us as their solutions partner because of our innovative attitude towards individual challenges and commitment to continual improvement.