Box Section Kitting Stillage
Box Section Kitting Stillage.
Designed to handle kitting and internal distribution of parts.
Are you looking for a solution to handle the kitting and internal distribution of parts; that's also safe, easy and adaptable? Acres Engineering are experts in protective kitting media and have worked with numerous high profile customers on successful projects.
An enquiry came through from Koenigsegg Automotive to supply a product that would help within their production facility. Meetings were held between both companies to gather information for the required specification.
The product features 5 adjustable shelves each with a safe working load of 60kg. To allow for the maximum use of production/ storage facility space, a drop down handle was placed as well as swivel and braked anti-static castors with direction locks.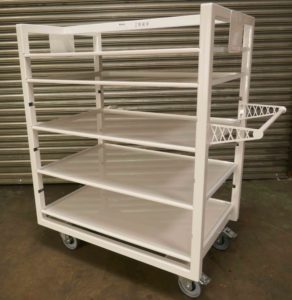 To save your business money, our products need to be robust so, a box section mainframe was designed for product strength meaning you won't need to worry about the durability of what you're buying. To also save you costs we've manufactured the kitting stillage so the shelves can be drawers if required for future projects because we know versatility is vital within any industry.
Optional extras are also available to protect your products and equipment as much as possible.
Weatherproof Covers,
Anti Corrosive protection bags,
Foam inserts,
Rubber matting shelf inlays.
This product is versatile and could be used across a variety of industries. The box frame was cut by our in-house laser cutter; the precise and contactless machinery allows us to manufacture products meeting customer specification effectively.
See what other types of kitting media Acres have produced here.
Project REF: AD-1988-2021-07-1
Don't forget to like us on Facebook and check out our Blogs Page for more company updates.
Why not also take a look at our Automotive Industry Page?
Have a design and development project you want the Acres team to look at? Can't see what you want? Need something different?
Acres Engineering is established as a leader in delivering bespoke creative engineered solutions. Many OEM's and tier one/ two suppliers in aerospace, automotive, rail and power generation industries have chosen us as their solutions partner because of our innovative attitude towards individual challenges and commitment to continual improvement.