Designed and Manufactured for our West Midlands based Automotive client.
The Conveyor Bridging System has been manufactured to allow access to an enclosed area.
Stair sections feature folding top sections which can be moved out of the way of the conveyor when not in use.
The stair sections and platform are fitted will handrails and kick plates.
The fixed stair is bolted to the floor for sturdiness, avoiding slipping out of place and ensuring the safest possible outcome.
The movable stair section will require ballast in the base to counter balance the cantilever section.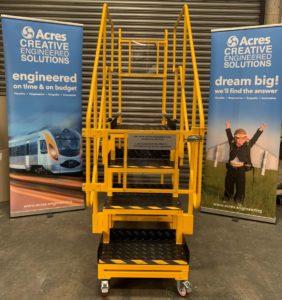 The dimensions of the conveyor that is bridged are 1370mm (H) x 975 (W)
The system dimensions are based around bridging the conveyor plus some clearance.
The handrails are 1100mm high.
Have a design and development project you want the Acres team to look at? Can't see what you want? Need something different?
Acres Engineering is established as a leader in delivering bespoke creative engineered solutions. Many OEM's and tier one/ two suppliers in aerospace, automotive, rail and power generation industries have chosen us as their solutions partner because of our innovative attitude towards individual challenges and commitment to continual improvement.