Pipe Rack Storage Trolley
Pipe Rack Storage Trolley
The pipe rack storage trolley has been designed for a major international aerospace OEM. The rack features 80 hooks labelled with a laser cut "hook number" at regular intervals. Pipes used in the engine build process are placed into bags and the bags attached to the hooks. Each type of pipe is assigned to a certain hook number allowing the required part to be quickly and easily selected.
Scope of work:
Design and manufacture a Pipe Rack Storage Trolley to Acres drawing number: AD-743-2015-04
In order to reduce the cost and fabrication time of the trolley Acres designed a laser cut plate with a multitude of hooks 'cut' into the plate, rather that fabricating and welding 78 individual hooks. The frame itself is fabricated from 20mm x 20mm x 2mm plain carbon steel square hollow section.
Wheels can be a key element of the design specification with kitting media that will be frequently used. The design features our standard, quality swivel with brake castors, 125mm diameter with an ergonomic medium shore hardness blue rubber wheel. We can change the option to two fixed, two swivel with brake at no additional cost if desired.
The design is completed by an A4 document pocket protecting job information and reducing the risk of the documentation being lost or soiled.
Approx. size of the Pipe Rack Kitting and Storage Trolley: 1200mm (L) x 600mm (W) x 1850mm (H).
Potential options:
Fork lift pockets
Individual component hooks
Black/ yellow adhesive hook number label (rather than laser cut)
Foam cladding protection on steelwork
Foam profile(s) in base
Trolley handle
Ref: AD-743-2015-04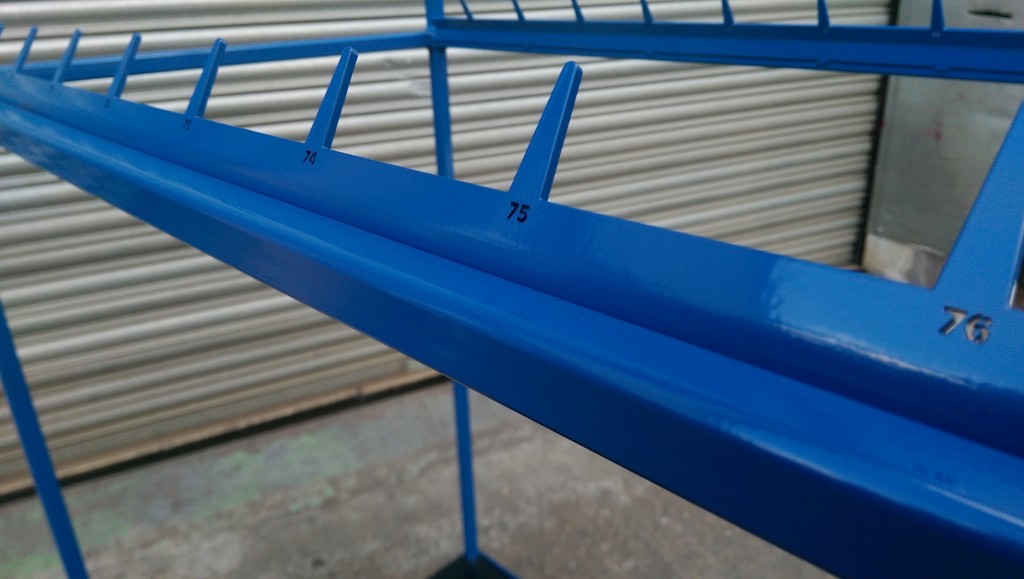 Have a design and development project you want the Acres team to look at? Can't see what you want? Need something different?
Acres Engineering is established as a leader in delivering bespoke creative engineered solutions. Many OEM's and tier one/ two suppliers in aerospace, automotive, rail and power generation industries have chosen us as their solutions partner because of our innovative attitude towards individual challenges and commitment to continual improvement.