Battery Changing Tugger Machine 1250 x 650 Dual Height
Acres Battery changing unit 1250 x 650 Dual Height – REF 2017-06-13754
As part of an ongoing relationship with Hoppecke Batterien, Acres produce a number of bespoke fork-truck battery changing units to suit customer requirements. Our product has improved incrementally over the years giving our designers and fabricators a wealth of experience to tackle almost any request.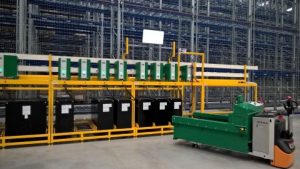 The Acres PU powered battery changing unit is fixed to a PPT (Powered Pallet Truck) providing a fast and efficient mobile battery changing solution for 24 hour warehouse operations. The PU is powered by a hydraulic power pack which, in partnership with a pair of powerful magnets exchanges batteries between fork trucks and battery charging racks.
Acres are currently exporting custom machines to Germany, France, Belgium, Spain, Poland, Holland, Slovakia, Abu Dhabi, Dubai, South Africa and China as well as serving the UK.
For more information about the Hoppecke battery changing unit see: The trak® Xchange PU.
Design Scope:
Destination: 
Hoppecke Poland
Battery Details:
Battery 1 Dimensions: 1220 x 352 x 784 = 310 mm (933KG)
Battery 2 Dimensions: 976 x 660 x 830 = 220 mm (1306 KG)
Battery 3 Dimensions: 1030 x 529 x 627 = 190 mm (856 KG)
PPT Details:
Outside fork dimension = 680mm
Fork dimension = 170mm
Lowered fork height dimension = 85mm
Fork length dimension = 1600mm
PPT Lift = 120mm
Roll Off Height:
Minimum Roll off heights Requested = 190mm
Maximum Roll off height Required = 310mm
Acres to set minimum roll off to = 150mm
Additional Features:
Magnet head Extension: 135mm
Yellow label around E stop
Double D fender required to lower chassis
Colour: RAL 6029 Green
Acres Drawing Number: AD-1269-2017-06
Have a design and development project you want the Acres team to look at? Can't see what you want? Need something different?
Acres Engineering is established as a leader in delivering bespoke creative engineered solutions. Many OEM's and tier one/ two suppliers in aerospace, automotive, rail and power generation industries have chosen us as their solutions partner because of our innovative attitude towards individual challenges and commitment to continual improvement.