The spacer racks have been designed for a midlands based Aerospace OEM for use within the engine build area. This solution is a development of the existing racks used for a different engine currently on site, previously designed and manufactured by Acres.
The spacer racks will be used for storage of various width spacer rings used in the build process. The main frame of the racks has been fabricated from 50mm x 50mm PE300 box section to prevent any metal to metal contact. The discs will sit on two horizontal rails running the width of the rack. While water jet cut comb spacers separate the rings into their various sizes- 5 off rings per section.
Rack A:
6x off sections (63mm spacings) to accommodate 5 rings per section.
Approximate overall outside dimensions: 508mm (W) x 950mm (D) x 1400mm (H)
Rack B:
11x off sections to accommodate 5 rings per section.
Approximate overall outside dimensions: 848mm (W) x 554mm (D) x 720mm (H).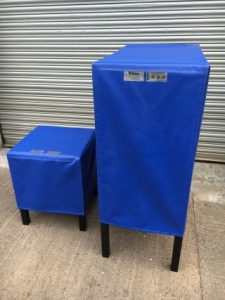 The racks have been covered in a high quality PVC cover with a front Velcro opening section, this will reduce dust settling on the rings while also protecting the racks and contents from damage and ensuring product longevity.
Total number of units required: 2 off
Spacer Racks Drawing Ref: AD417-2014-04
---
To discuss your individual requirements:
Telephone one of our commercial engineers on: 0844 209 0006
Alternatively, complete the form to the right and we'll contact you
Have a design and development project you want the Acres team to look at? Can't see what you want? Need something different?
Acres Engineering is established as a leader in delivering bespoke creative engineered solutions. Many OEM's and tier one/ two suppliers in aerospace, automotive, rail and power generation industries have chosen us as their solutions partner because of our innovative attitude towards individual challenges and commitment to continual improvement.