More strip & build cart units have been delivered this week from a total order of 66.
The strip & build cart has been designed to assist in the repair and overhaul of gas turbine engines for a large midlands based OEM within the aerospace sector. The cart will be used for both the transportation and storage of components ready for the build or strip process.
Construction:
Components for build or components stripped from an engine are securely contained in plastic drawers within the trolley.
The drawer unit will be manufactured using a PE300 sheet which is a strong, recyclable material. The drawer is designed for a maximum load of 130Kg, but the expected typical load is 50kg / 60kg. Each drawer will slide and be located/locked in position using a pair of extra heavy duty slides, one of which will have a lever lock release. This significantly reduces the risk of a drawer tipping during use. We have further reduced the risk by limiting the drawer extension to 85% of its travel. Note that only one drawer should be pulled out at a time to reduce the tipping risk. We have also future proofed the trolley by adding an element to allow a post fitting of a 'single drawer' mechanism. There are four drawers in total, any of the four drawers can be simply removed and positioned on the top of the cart (if required). The carts will be fabricated from 30mm x 30mm box section, chosen for its ideal combination of weight and strength.
The doors can be locked with a laser cut handle and a rod locking system which secures the top and bottom of the door.
The trolley has been clad in weldmesh allowing visibility of the trolley contents.
Castors and handling:
The cart features 4 off 200mm diameter heavy duty swivel with brake castors. The castors have been specifically chosen for their high specification. The tyres are non-marking blue elastic rubber fitted onto a black plastic centre. The wheel fitted into a zinc plated steel housing with double ball race and swivel head. Each castor has a load rating of 500kg. We typically recommend 2 fixed and 2 swivel with brake castors on trolleys, as this solution will easily allow the operator to turn and manoeuvre the trolley.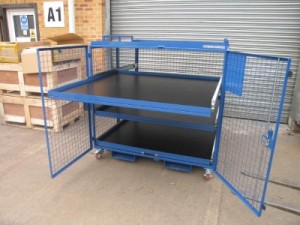 The design of the cart also includes some other handling features as follows:
> Pallet feet for stacking (Acres recommend stacking no more than 2 high)
> Fork lift truck pockets. The size of the pockets is standardised across sites and designed to suit both small and large fork lift trucks.
To provide a durable hard wearing finish the unit has been powder coated in RAL 20 D 45 Blue.
The approximate overall size of our solution is: 1590mm (L) x 1593mm (W) x 1553mm (H)
Acres Drawing Number: AD-639-2015-02
Have a design and development project you want the Acres team to look at? Can't see what you want? Need something different?
Acres Engineering is established as a leader in delivering bespoke creative engineered solutions. Many OEM's and tier one/ two suppliers in aerospace, automotive, rail and power generation industries have chosen us as their solutions partner because of our innovative attitude towards individual challenges and commitment to continual improvement.