Acres Engineering celebrates 70 Years of Manufacturing
2017 marks a significant anniversary for Acres Engineering. This year we celebrate 70 years of producing custom fabricated solutions serving the bespoke needs of our broad client base.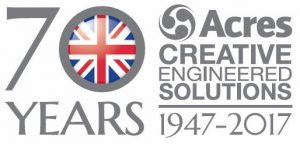 From serving the local horticultural industry back in the 1840's the company soon diversified offering material handling equipment to the Brewing industry in the 1960's and more recently, production support equipment to Toyota's then new Burnaston site in the 1990's. Acres continues to diversity producing bespoke solutions to customers across industry sectors allowing us to offer best practice developed from each.
See more about Acres company history here: