Acres Receive Covenant Gold Award
By advocating support for the Defense and Armed Forces community, we're delighted to share that Acres Engineering has received the Covenant Gold Award.
The Defence Employer Recognition Scheme retains Bronze, Silver & Gold Awards for organisations that demonstrate encouragement towards the Covenant. Another 156 organisations had achieved Gold this year; of those 44% are either micro-organisations, small or medium whilst 33% are public.
We aim to provide exceptional support through different levels of commitment, going above and beyond to achieve our pledges. Ensuring that those who serve or have served and their families are treated fairly.
Major Bruce Spencer visited Acres Engineering alongside Major Steve Goodwin to witness HR Manager Alice Parker re-sign the Covenant.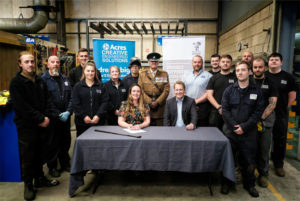 The Business Desk- East Midlands, featured us in an article after speaking with representatives of the company.