After huge preparation, the Acres Summer BBQ was attended by employees and their families. With a variety of activities and games, the attendants spent the afternoon eating delicious food and having fun.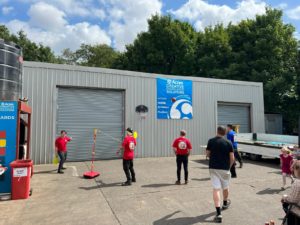 The event was an idea to celebrate National Burger Day and the anniversary of the business trading for 75 years. To share the excitement leading up to the BBQ, employees were interacting with fun competitions such as "guess the amount of burger sweets."
Before the day of the event, one of our designers used CAD to design the BBQ and signs we had manufactured in-house. It took no more than three days for our amazing apprentices to fabricate the entire thing with help from the laser cutter.
Hoping the cloudy, dull sky would clear, it seems our designer who traveled from his hometown in Spain brought along the bright sunny weather; perfect for the children to play fun games in the yard.
With a great selection of food from burgers, sizzling sausages, mac & cheese, a giant victoria sponge cake, and much more, everyone spent the afternoon consuming tasty treats.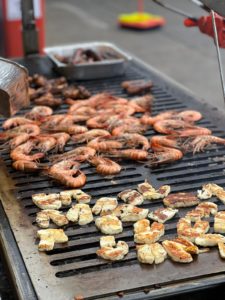 Our community is important to us so, we love to buy from local suppliers to share the commitment we have to support other businesses. We'd like to thank Birds Bakery Melbourne for being a huge helping hand with our large pre-order of burger buns and hot dog rolls.
After a great afternoon, the Managing Director and HR Manager gave a speech about the business and thanked everyone for their hard work. Everyone was delighted to hear the fantastic news of the opportunities coming through for the company this year; it was a moment of celebration for employees.