Coronation Tea Party – SSAFA the BIG brew up!
We love to share a lunch with our staff, what better excuse than to celebrate the Coronation of King Charles III. 
Thank you to Birds Bakery our local bakery for supplying the delicious sandwiches and cream teas! Birds Bakery who have a shop in our local village Melbourne, home of Melbourne Hall.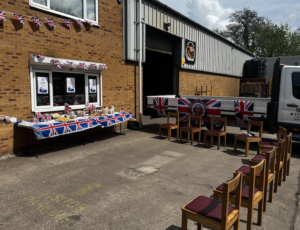 We decided to make the most of the occasion to raise money for SSAFA, the Armed Forces Charity by combining our Coronation Celebrating with a BIG BREW UP event. Acres were awarded Gold last year for their support of the Armed Forces Covenant and raising money for SSAFA continues with this commitment.
We had a fabulous lunch break listening to music, enjoying each other's company whilst sharing the delicious cream team and celebrating the Coronation of King Charles III.
We hope that everybody enjoys the Coronation Celebrations. God Save the King!