Football Creativity for Charity
Team Acres in their moment of madness have entered a team into the 'Jumpers 4 Goalposts' on Saturday 10th June 2023 in support of SSAFA.
Today the team engaged in some 'Friday Fun' getting creative and designing the football strip that will see them through to victory.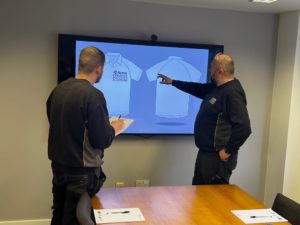 Perhaps you could help us with our football shirt design? If so please send your ideas into [email protected] …. who knows you may win a prize!
The Jumpers 4 Goalposts competition is associated with StepOutStayOut, which is a footballing project created by ex-offender Pete Bell, designed to give those within HMP a chance to develop coaching and mentoring skills, and create a motivational environment, to help avoid the vicious circle of release and re-imprisonment.
If you would like to come and watch our team at the event the address is:
Farnborough Spencer Academy, Farnborough Road, Clifton, Nottingham, NG11 8JW. You can see the fixture below: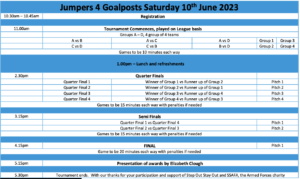 Acres were awarded Gold last year for their support of the Armed Forces Covenant and raising money for SSAFA continues with this commitment. Check out some of the other engagements Acres has done with the armed forces here.
Acres recently raised money for SSAFA, the Armed Forces Charity by combining our Coronation Celebration with a BIG BREW UP event.