Historic mills to benefit from six-figure boost
The Arkwright Society, which is responsible for Cromford Mills, has received a six-figure boost to conserve, regenerate and develop the historic site into a major visitor attraction.
The charity has received just shy over £250,000 from The National Lottery Heritage Fund to deliver a number of initiatives to ensure that the mills become an even greater attraction for visitors, local businesses and the wider community – and a place that people can enjoy and celebrate its history.
Cromford Mills was built in the 1770s and 1780s by Sir Richard Arkwright – and has gone from strength-to-strength since the Arkwright Society purchased the industrial heritage site in 1979.
The Heritage Fund money, made possible thanks to National Lottery players, will support staff in activities to engage more widely with people through learning and education about the site and the society's ambitions for its development.
Sustainability is also a key theme for the society, highlighted by the forthcoming installation of a turbine powered water wheel in one of the historic wheel pits at Cromford Mills.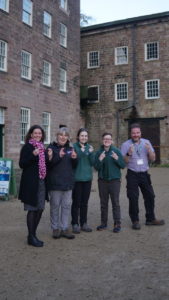 The cash will also support the mills' programme of events, creating a more diverse and fun experience.
Critical to the long-term sustainability of the site is the next phase of regeneration at Cromford Mills, which will focus on the repair and repurposing of the remaining buildings on the site, in particular the iconic 'First Mill' built by Sir Richard Arkwright in 1771.
With £20,000 match funding from the Duke of Devonshire Charitable Trust, a refreshed masterplan will be commissioned, with a clear roadmap for the continuing regeneration of the mills and a business plan for their future use.
Chief executive Eilis Scott said: "The Arkwright Society is immensely grateful for the ongoing support from National Lottery players and The National Lottery Heritage Fund and the Duke of Devonshire Charitable Trust.
"This funding will help make the society more resilient and deliver a bright and innovative future.
"Cromford Mills is a very special place within the Derwent Valley World Heritage Site, and we want to continue sharing and celebrating the mills and their stories with all our visitors and local businesses.
"This funding will give us greater confidence and resource to develop educational activities and plans, particularly for conservation and sustainability, with our local schools and communities; which is at the heart of what the Arkwright Society is all about."
Source: www.marketingderby.co.uk