Steel Access Platform Steps
Steel Access Platform Steps.
We continue to create solutions of our highest quality as every step you take, should be as safe as the last.
This specific enquiry was for a solution that would allow access to a raised plinth that approaches a roof-entry ladder. The stairway needed to provide complete protection for staff accessing or coming away from the roof-entry ladder.
The Access Platform Steps were manufactured from steel as it's maintenance-free. As it is a strong and durable material, it will not crack or creak as it can handle high temperatures, unlike timber.
Here at Acres Engineering, safety is at the forefront of all our products. Therefore, the Access Platform Steps were designed in accordance with British Standards and powdercoated with RAL1018 (Zinc Yellow) for the step plates only.
As part of the Steel Access Platform Steps that were manufactured, we removed the existing safety rails and replaced them with a new arrangement that joins the new stairs.
Save yourself from the trouble of costly repairs and reach new heights with a robust solution. One step after the other, we know we're your dependable solution provider.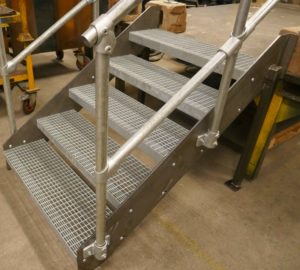 Feedback from our customers:
Service: 10
Quality: 10
Lead Time: 10
Functionality: 10
Communication: 10
Need something maneuverable yet stable, check out the Fixed Step Ladder; adjustable for all accessing requirements.
Project REF: AD-1888-2021-01-1
Don't forget to like us on Facebook and check out our Blogs Page for more company updates.
Have a design and development project you want the Acres team to look at? Can't see what you want? Need something different?
Acres Engineering is established as a leader in delivering bespoke creative engineered solutions. Many OEM's and tier one/ two suppliers in aerospace, automotive, rail and power generation industries have chosen us as their solutions partner because of our innovative attitude towards individual challenges and commitment to continual improvement.