Aluminium Tread Plate Ramp
The Aluminium Tread Plate Ramp has been designed and manufactured for a local  commercial window cleaning company who specialise in cleaning a wide range of commercial and industrial premises across the Midlands.
The ramp has been designed to assist with loading and unloading the large water pump into the back of company vehicles. The ramp will reach up to 520mm from ground level.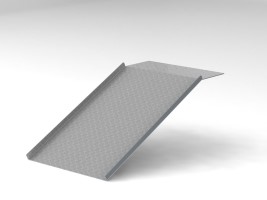 The ramp has been manufactured from 5mm aluminium tread plate and features a 25mm lip on each side. The ramp has been designed from a single laser cut piece and features 3 bends which were achieved by CNC press brake.
Approximate Dimensions: 1500mm long x 750mm wide
Quantity required: 1 off units
Acres Reference: 2016-03-12560
Have a design and development project you want the Acres team to look at? Can't see what you want? Need something different?
Acres Engineering is established as a leader in delivering bespoke creative engineered solutions. Many OEM's and tier one/ two suppliers in aerospace, automotive, rail and power generation industries have chosen us as their solutions partner because of our innovative attitude towards individual challenges and commitment to continual improvement.