ASRS Automatic Loading Trolley Mk2 Prototype
ASRS Automatic Loading Trolley – REF Number: 2017-02-13370/7912
This ASRS Automatic Loading Trolley design is a variant of the solution produced for a new Acres client. The client, a large west midlands based Automotive OEM required a tow trolley solution to support the integration of an Automatic Storage and Retrieval System (ASRS) at their other, Castle Bromwich site.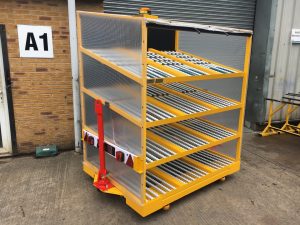 The tow trains consist of two trolleys designed to be coupled in pairs and to link to existing Linde P60 tow trucks used on site. Each trolley is capable of holding a maximum of 24 off totes (maximum 15kg each) across 12 off gravity conveyor lanes built in to the structure. These gravity lanes are installed on 4 levels x 3 lanes wide and are designed to suit the out-feed of the automatic trolley loading stations on the ASRS system.
The design of the trolley has been considered to be such that the pitch between them when coupled will allow accurate alignment with the automatic trolley loading stations, allowing two trolleys to be loaded at the same time.
This prototype was produced to the new specification with the following features:
– Chain Drive 'Ackerman' steering system,
– Drop down tow bar at each end,
– Central tow bar with knuckle to ensure safe movement over uneven surface.
– PVC Cover sides and roof. Roller shutter blinds to each side.
– Roller tracking style roller beds, 520mm wide, with Flow gates at the top.
– Maximum box size: 640 x 440 x 330mm
– Dampening rollers on top bed.
– 2x Beacon Lights to be connected to Tow Tug
– Tail light board at each end including brake lights & indicators.
Each trolley has been set on a powder-coated steel support chassis approximately 1300mm wide x 1500mm long. The chassis is supported on 2 off small diameter towing wheels specified to suit the load. In addition to the chassis transport wheels a further 4 of small ~Ø125mm diameter outrigger wheels are mounted horizontally in close proximity to the corner of each chassis. These wheels are designed to stabilise and accurately locate the trolley on the lead in to the automatic trolley loaders. The wheels will act against a floor mounted guide rail system when towed into position prior to the loaders.
Tow train specification:
– Capacity: 48 totes
– Number of trolleys: 2 (permanently linked)
– Number of shelves: 4
– Totes per shelf: 3×2 (double deep loaded)
– Max. tote size: 600 x 400 x 300mm (LxWxH)
– Max. weight tote: 15kg
– Max emergency tote weight: 25kg
– Max. top shelf height: 1550mm at the lower side
– Max. towing speed 8km/ph
Acres Drawing Number: AD-1166-2016-11
---
To discuss your individual requirements:
Telephone one of our commercial engineers on: 0844 209 0006
Alternatively, complete the form to the right and we'll contact you
Have a design and development project you want the Acres team to look at? Can't see what you want? Need something different?
Acres Engineering is established as a leader in delivering bespoke creative engineered solutions. Many OEM's and tier one/ two suppliers in aerospace, automotive, rail and power generation industries have chosen us as their solutions partner because of our innovative attitude towards individual challenges and commitment to continual improvement.