Are you looking to efficiently transport components? Acres Engineering can help you find the right solution to streamline workplace flow and organisation.
The Clam Brace Trolley optimises the process of moving clam braces in an automotive manufacturing site; reducing the time and effort required for employees to manually manoeuvre them.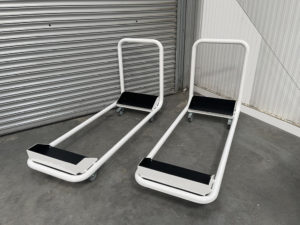 Due to the unrestricted design of the Clam Brace Trolley, operators can easily load and unload productively whilst, enabling them to identify and access components readily available, further enhancing operational effectiveness.
By providing a smooth nylon surface, you can trust that fragile or expensive components will be protected during transportation, preventing scratches or other forms of damage.
Project REF: AD-2308-2023-06-1
Don't forget to like us on Facebook and check out our Blogs Page for more company updates.
Why not also take a look at our Automotive Industry Page?
Have a design and development project you want the Acres team to look at? Can't see what you want? Need something different?
Acres Engineering is established as a leader in delivering bespoke creative engineered solutions. Many OEM's and tier one/ two suppliers in aerospace, automotive, rail and power generation industries have chosen us as their solutions partner because of our innovative attitude towards individual challenges and commitment to continual improvement.