The Development Wardrobe has been manufactured for a midlands based aerospace OEM. The role of the Development Wardrobe is to eliminate all cardboard parts packaging at the Integrated Logistics Centre before parts are sent to the Precision Test Facility build line. This unit also protects parts from potential damage.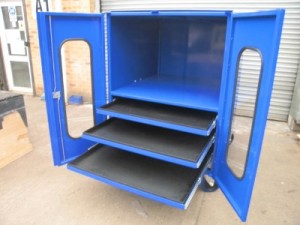 Scope of Work:
The main body of the unit has been fabricated from 25mm x 25mm box section, chosen for its ideal combination of weight and strength.
Each module features 3 off extendable drawers which locate metal trays with foam inserts.
The inserts have CNC machined cut outs in to house the parts. This will reduce the risk of metal to metal contact.
The unit has 2 off doors which open back flat against the sides that are fitted with mild steel outer panels to protect the part within.
The unit has 4 fork pockets which will  allow the unit to be moved with either a fork lift or pallet truck.
The cart has 4 off 200mm diameter heavy duty swivel castors with brakes. The castors have been specifically chosen for their high specification. The tyres are non-marking blue elastic rubber fitted onto a black plastic centre. The wheel fitted into a zinc plated steel housing with double ball race and swivel head. Each castor has a load rating of 500kg. We typically recommend 2 fixed and 2 swivel with brake castors on trolleys, however an all swivel solution will easily allow the operator to turn the trolley on the spot.
The unit has been powder coated to give a hard wearing durable finish.
Approximate overall size – 1550mm (H) x 1200mm (W) x 1200mm (D)
Optional Extra:
>Frame around the top of the unit to allow boxes to be secured, cost TBC
>Document Pocket
Acres Reference:  AD-312
Have a design and development project you want the Acres team to look at? Can't see what you want? Need something different?
Acres Engineering is established as a leader in delivering bespoke creative engineered solutions. Many OEM's and tier one/ two suppliers in aerospace, automotive, rail and power generation industries have chosen us as their solutions partner because of our innovative attitude towards individual challenges and commitment to continual improvement.