Is your current resolution to store and transport Hood Parts inefficient? Our innovative solutions can support you to manoeuvre components around factories and create compact, visual storage.
Hood Parts Stillages.
Hood Part Stillages are an easily accessible storage solution allowing for trouble-free loading and unloading of Hood Parts. Whilst the compressed and stackable design maximizes floor space, the Stillages can also be safely transported by Forklift to transfer internal components around manufacturing processes.
Internal components can be visually managed to monitor the protection of Hood Parts during transportation and whilst being stored. You can be rest-assured that the Stillage uses foam-pads to prevent internal components from metal-to-metal contact and are secured in location.
Our innovative solutions are not only designed to be function but to be beneficial. By investing in organisation and structure, you can increase operator productivity and morale. Employees will more than likely want to progress within a well-structured environment as they will feel comfortable and productive.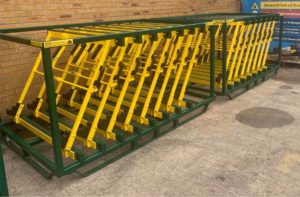 Working within the Automotive Manufacturing Industry and think you could utilize this solution? Send your enquiry below! Although, our products are widely adaptable and we can help Industries from Aerospace, Rail, Energy and much more!
Why not take a look at our similar solution, the Tailgate Outer Stillage:
Have a design and development project you want the Acres team to look at? Can't see what you want? Need something different?
Acres Engineering is established as a leader in delivering bespoke creative engineered solutions. Many OEM's and tier one/ two suppliers in aerospace, automotive, rail and power generation industries have chosen us as their solutions partner because of our innovative attitude towards individual challenges and commitment to continual improvement.