Do you need a solution to access high- platforms or create secure walkways? Acres Engineering can help you increase productivity whilst creating a safe working environment with Access Steps.
Grated Access Steps can be used internally and externally to access high- platforms such as doorways or to perform tasks at an ergonomic overhead height. However, you can also use them to cover pipework, cables, ducting, guttering or machinery to prevent trip hazards. The solution is also adaptable to be used as a draining table, allowing liquids to drain from the grated surface or to raise equipment and materials from the floor.
The robust Access Step design allows for the solution to be used externally, no matter the weather! The long-lasting powder-coated finish extends the longevity of the solution yet, doesn't compromise the non-slip surface. Allowing a SWL of up to 150kg, the Access Step can be heavily loaded though, the product is lightweight and can be easily transportable by one-person lift (without heavy load.)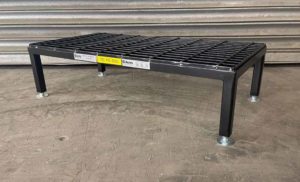 Believe you could utilise the Access Steps in some way. Send your enquiry to us below!
Not sure if this is right for you? Take a look at our Steel Access Steps, designed for access to a raised external plinth.
Project REF: AD-2240-2023-01-1
Don't forget to like us on Facebook and check out our Blogs Page for more company updates.
Have a design and development project you want the Acres team to look at? Can't see what you want? Need something different?
Acres Engineering is established as a leader in delivering bespoke creative engineered solutions. Many OEM's and tier one/ two suppliers in aerospace, automotive, rail and power generation industries have chosen us as their solutions partner because of our innovative attitude towards individual challenges and commitment to continual improvement.