Racks & Stillages- Front Cover Rack
Do your employees need an efficient storage and transportation solution for parts? We design compact Stillages and Racks to support with storage and securely transport equipment around factories and warehouses.
Front Cover Rack.
The Front Cover Rack allows operators to easily load components in an upright, vertical orientation for improved visual management. Supportive Neoprene rubber pieces, securely hold components in place; protecting them from metal-to-metal contact even through transportation. The Front Cover Rack can be safely transported by Forklift however, they can be simply adapted to suit AGV trucks.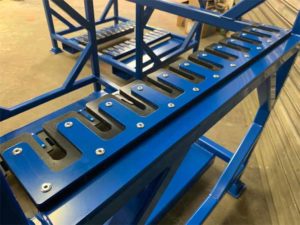 Utilised to transfer goods around factories and warehouses, Stillages and Racks are also an effective, stackable solution to ergonomically raise components from the floor for easy accessibility.
Have an enquiry you'd like one of the team to look at? Want to know how we can help with an upcoming project? Send through your details below and someone will shortly be in contact to help! Whilst you wait, why not check out the Hood Parts Stillage, designed to create trouble-free loading and unloading of Hood Parts?
Project REF: AD-2230-2023-01-1
Don't forget to like us on Facebook and check out our Blogs Page for more company updates.
Have a design and development project you want the Acres team to look at? Can't see what you want? Need something different?
Acres Engineering is established as a leader in delivering bespoke creative engineered solutions. Many OEM's and tier one/ two suppliers in aerospace, automotive, rail and power generation industries have chosen us as their solutions partner because of our innovative attitude towards individual challenges and commitment to continual improvement.