The Inspection table has been designed and manufactured for a leading aerospace client for use within the inspection area of one of their Midlands based sites for inspecting aerospace components and assemblies.
The client required a long inspection table to conduct this work so the solution was broken down in 4 equal sections to make manufacture and transportation possible. The complete solution can then be bolted together and assembled on site.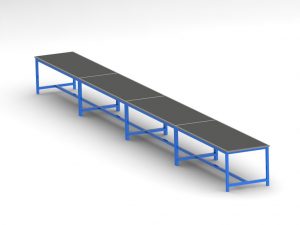 Each section has been manufactured from 50mm square hollow box section to make the framework with an 18mm plywood top, this has then been covered with 6mm black natural rubber top and a length of 50mm PE300 plastic angle to cover all edges, preventing any opportunity for metal to metal contact.
All 4 off tables will be bolted together to result in a overall work space of approximately: 9800mm (L) x 950mm (W). All units feature a working height of 850mm.
Each table has been load tested to a SWL of 750kg.
Mild Steel parts have been powder coated in RAL 20D45- Blue to provide a hard wearing long lasting finish.
Approximate overall size of each section: 2450mm (L) x 950mm (W) x 850mm (H).
Acres Drawing Number: AD-1064-2016-04
Quantity required: 4 off tables per unit
Have a design and development project you want the Acres team to look at? Can't see what you want? Need something different?
Acres Engineering is established as a leader in delivering bespoke creative engineered solutions. Many OEM's and tier one/ two suppliers in aerospace, automotive, rail and power generation industries have chosen us as their solutions partner because of our innovative attitude towards individual challenges and commitment to continual improvement.