Lifting Equipment Trolley
Here at Acres Engineering, we don't mess around! We understand that our solutions should do everything from functionality to responsibility. If you're looking for a innovative resolution, then you have come to the right place.
Lifting Equipment Trolley.
Designed to locate equipment, the Lifting Equipment Trolley creates perfect storage management to protect parts against damage. Safely and easily manoeuvre equipment around factories and warehouses or use it as an equipment collection point. Simply create a securer environment and prevent accidents by controlling and managing the storage of slings, lifting blocks or large tools.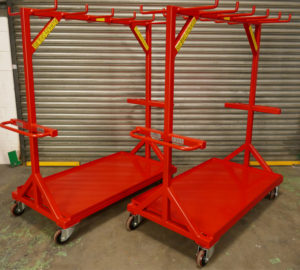 Allowing for complete visual management and protection of parts, the Lifting Equipment Trolley provides a sustainable solution to improve stock control cutting out scrappage costs and waste. Safely storing your equipment reduces the risk of damage and prevents the time & cost of repairs resulting in more efficient productivity.
Are you considering Acres Engineering for your next project? You should be! Send in your enquiry below…
Why not read about the Tool Lifting Storage Trolley, used to store and transport components?
Project REF: AD-20-2012-12-1
Don't forget to like us on Facebook and check out our Blogs Page for more company updates.
Have a design and development project you want the Acres team to look at? Can't see what you want? Need something different?
Acres Engineering is established as a leader in delivering bespoke creative engineered solutions. Many OEM's and tier one/ two suppliers in aerospace, automotive, rail and power generation industries have chosen us as their solutions partner because of our innovative attitude towards individual challenges and commitment to continual improvement.