Standard Kitting Wardrobe
Standard Kitting Wardrobe.
Designed to improve visibility and management of parts.
Do your employees need a solution to improve the management and visibility of parts? Take a look at the Kitting Wardrobe. Safe and secure to manoeuvre, effectively increases the visibility of parts whilst being easily accessible! What more could you want?
The Kitting Wardrobe uses Perspex windows; letting in light, effectively increasing the visibility of internal components. Clear plastic outer panels are designed to be cost-effective solution to give the operator improved clarity into the unit compared to glass.
The two doors open flat against the sides of the unit, allowing operators to completely extend the drawers; maximizing the ease of accessibility to load and unload components. To protect equipment from metal-to-metal contact, plastic trays are located on the spacious drawers inside the Kitting Wardrobe.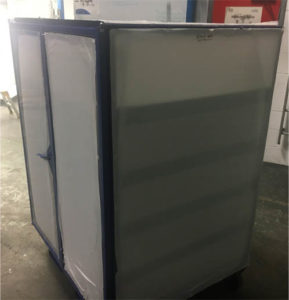 This solution can be safely and securely maneuvered by Forklift Truck however, it can be easily be adapted for efficiency to be transportable by AGV Trucks or Tug Units. Used to improve the management and visibility of parts, the Kitting Wardrobe also organizes the storage of components preventing them from becoming damaged; saving you from costly and timely repairs. Whilst the design of the Kitting Wardrobe encourages ergonomics to prevent operator injuries and accidents, it's also supporting your employees to boost productivity.
Interested? You can send your enquiry from this page, using the button below! Let us know how we can help with your upcoming or existing projects. You can also read about the Wardrobe Roof Rack, designed to store and transport components using the link below.
Project REF: AD-1410-2018-02
Don't forget to like us on Facebook and check out our Blogs Page for more company updates.
Have a design and development project you want the Acres team to look at? Can't see what you want? Need something different?
Acres Engineering is established as a leader in delivering bespoke creative engineered solutions. Many OEM's and tier one/ two suppliers in aerospace, automotive, rail and power generation industries have chosen us as their solutions partner because of our innovative attitude towards individual challenges and commitment to continual improvement.