Bumper Load and Unload Trolleys
The bumper load and unload trolleys have been designed and manufactured for the plastics area of a large midlands based automotive OEM, the bumper load and unload trolleys have been designed to transport vehicle bumpers from one part of the factory to another without the use of a forklift truck.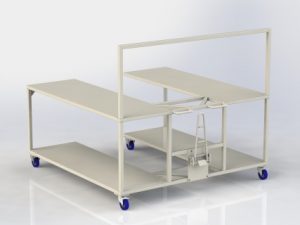 The trolley has been manufactured from 40mm steel box section with 4 off 2mm thick infill panel shelves for the bumpers to locate on. These shelves will be covered with a foam dunnage to protect the parts, which will be supplied by the client.
The trolley has been designed to be as light weight as possible to enable the unit to be manoeuvred around site quickly and easily, while also not compromising on overall functionality. The design allows the user access to the vehicle parts through the centre of the unit.
The trolley features 2x off 25mm x 2mm CHS handles at the rear is fitted with 6 off 125mm diameter towing castors; 4 of the castors are fixed and 2 of the castors are swivel with brake castors for manoeuvrability.
The units have been powder coated to 12B15 (Sea foam) to provide a hard wearing finish.
Approximate overall size – 2080mm (L) x 1737mm (H) x 2000mm (W)
Number of bumper load and unload trolleys required: 2 Units
Acres Drawing Ref: AD-681-2015-03
---
To discuss your individual requirements:
Telephone one of our commercial engineers on: 0844 209 0006
Alternatively, complete the form to the right and we'll contact you
Have a design and development project you want the Acres team to look at? Can't see what you want? Need something different?
Acres Engineering is established as a leader in delivering bespoke creative engineered solutions. Many OEM's and tier one/ two suppliers in aerospace, automotive, rail and power generation industries have chosen us as their solutions partner because of our innovative attitude towards individual challenges and commitment to continual improvement.