The manual stations have been designed and manufactured for a west midlands based automotive client. The manual stations have been designed to integrate into an existing ASRS (Automated Storage and Retrieval System) conveyor system at their Solihull site.
The stations provide a location for the operator to manually sort broken pallets from a raise/lower platform and load the contents of them onto the conveyor system. The process here will be to scan the pallet, apply a label, and slide the box in the system.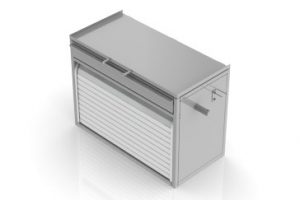 The solution has been manufactured from 25mm box section with 1.6mm mild steel sheet infill panels on the sides and rear. To the front is a large lockable roller shutter door to secure a Computer and Printer. Above this is a sliding drawer on 100% extension drawer slides that will secure a computer keyboard for occasional use. To the top of the unit there is a hinged worktop and handle, allowing cardboard boxes to be slid back onto the main conveyor system without the operator having to strain.
On the right hand side of the unit there are locations for a hand held bar code gun and a label reel. Alongside this will be the control for the raising the pallet platform.
Approximate overall dimensions: 1000mm (L) x 500mm (W) x 720mm (H)
Acres Drawing Number: AD-985-2016-03
Quantity required: 2 off units
Have a design and development project you want the Acres team to look at? Can't see what you want? Need something different?
Acres Engineering is established as a leader in delivering bespoke creative engineered solutions. Many OEM's and tier one/ two suppliers in aerospace, automotive, rail and power generation industries have chosen us as their solutions partner because of our innovative attitude towards individual challenges and commitment to continual improvement.