Picking and Handling Media
Client Brief:
Requirement for picking trolleys with barcode gun holder, ideally sized to suit their standard media containers.
Solution:
Manufacture picking trolley with single handle and two shelves with retaining lip and barcode gun holster.
Approx size. 1625mm long x 550mm wide x 988mm high.
Project REF: AD-1896-2021-02-1 / 10649-P1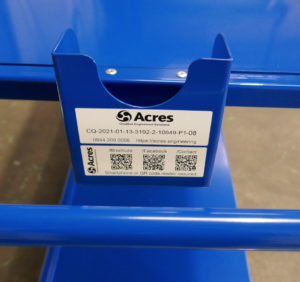 We have lots of different trolley type solutions available for a range of applications. Take a look at previous solutions here: https://acres.engineering/solutions/?product_type=trolleys-and-production-support-equipment
Have a design and development project you want the Acres team to look at? Can't see what you want? Need something different?
Acres Engineering is established as a leader in delivering bespoke creative engineered solutions. Many OEM's and tier one/ two suppliers in aerospace, automotive, rail and power generation industries have chosen us as their solutions partner because of our innovative attitude towards individual challenges and commitment to continual improvement.