Scope:
After successfully design the P16 Painted Parts Stillage, Acres Engineering has been asked to quote the manufacturing of the prototype unit.
Solution:
The stillage has been developed to transport all the parts of the supercar that need to be painted (except the roof panel), from a sequencing centre to a production line making sure all the parts are accessible at all the times while keeping the footprint to the minimum viable.
A core focus of the stillage is that all the specific parts developed for the project are bolted to the base structure, so the base structure will be able to be used on future projects, reducing the waste.
The stillage has 200mm diameter heavy duty wheels to support the stacking of up to 3 units height, to reduce space on transport. The front castors are lockable on direction to allow an easier push/pull operation, but can be unlocked to allow manoeuvrability on tight spaces.
Project REF: AD-1889-2021-01-1 / 10663-P1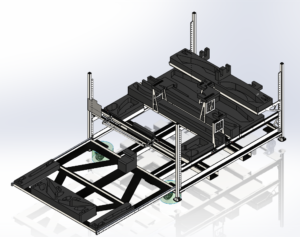 We have lots of different kitting media solutions available for numerous applications. Take a look at previous solutions here: https://acres.engineering/solutions/?product_type=kitting-media
You can also see our supercar landing page here: https://acres.engineering/supercars/
You can also see our kitting media landing page here: https://acres.engineering/kitting-media/
Have a design and development project you want the Acres team to look at? Can't see what you want? Need something different?
Acres Engineering is established as a leader in delivering bespoke creative engineered solutions. Many OEM's and tier one/ two suppliers in aerospace, automotive, rail and power generation industries have chosen us as their solutions partner because of our innovative attitude towards individual challenges and commitment to continual improvement.