Guide Shaft Storage Frame
Client Brief:
One of our well-respected clients came forward following a site visit requiring us to work on designing and manufacturing a piece storage and support equipment for their high precision critical guide shaft components on site.
After discussions on site the aim for the product was for it to be cost effective and simple solution, which provided safe storage of the parts using plastic protection methods. Also to help in the overall 5S of the area.
Solution:
The solution was a simple box section framework fabricated from 40mm mild steel box section. The frame designed to be larger at the base than the top to ensure the stability of the storage frame. The box section frame was fabricated with 2 levels of support arms for the plastic part protection to be fixed to. Also included were 4x tabs on the inside of the frame to provide positions for the frame to be bolted to the ground. For the plastic supports 20mm thick PE300 material was used and machined to the diameter of the shafts being stored. This alongside the steel arms beneath ensure all contact points with the parts were plastic but also that they were supported and held flat so that there was no chance of the parts falling from the frame. Finally across the front of the open sections of the plastics which allow the parts to be lifted in and out, we fitted some removable plastic covers for added security and peace of mind.
The rack successfully provided a safe and secure storage method for the shafts which protected them from damage and provided an upgrade on the current storage method in place. This project involved, design, fabrication and powder coat.
Project REF: AD-1688-2019-07-1 / 9759-P1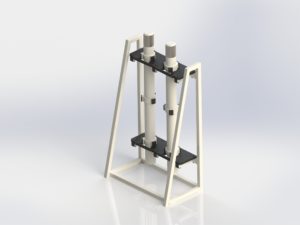 If you have any storage challenges and wish to reduce footprint within your facilities, please get in touch. Acres will provide the solution!
We have lots of different access platform solutions available for warehousing and maintenance applications. Take a look at previous solutions here: https://acres.engineering/solutions/?product_type=racks-stands-and-frames 
Have a design and development project you want the Acres team to look at? Can't see what you want? Need something different?
Acres Engineering is established as a leader in delivering bespoke creative engineered solutions. Many OEM's and tier one/ two suppliers in aerospace, automotive, rail and power generation industries have chosen us as their solutions partner because of our innovative attitude towards individual challenges and commitment to continual improvement.