Conveyor Access Ladders and Barrier Extensions
Client Brief:
One of our clients were finding that one of their conveyors was trapping empty cardboard boxes where it emptied onto another conveyor section, the issue was that this point on the conveyor track was located on a raised platform with the conveyor walls being of such a height that access only achievable by the use of a ladder, but the raised platform only had waist high railings, so ascending a ladder on that platform would have been incredibly unsafe.
Solution:
Acres were approached to design and install a set of fixed ladders and add extensions to the railings to prevent injury if someone were to come free of the ladder.
The other design restriction was that Acres would be unable to fix the ladder to the wall of the conveyor and therefore it would need to be solely floor mounted while also not restricting the accessibility of the platform walkway.
The solution presented was design to the BSI standards for fixed ladders with a slightly wider platform step at the top to provide a stable platform when accessing the conveyor.
The barrier extension was also designed so as to be non-destructive meaning no drilling or welding needed to be carried out on site as it was bolted around the existing barrier.
Project REF: AD-1799-2020-07-1 / 10307-P1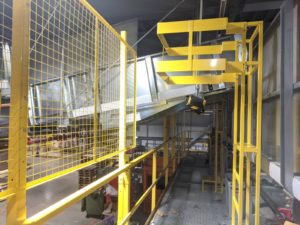 We have lots of different access platform solutions available for warehousing and maintenance applications. Take a look at previous solutions here: https://acres.engineering/solutions/?product_type=fixed-and-working-platforms 
Have a design and development project you want the Acres team to look at? Can't see what you want? Need something different?
Acres Engineering is established as a leader in delivering bespoke creative engineered solutions. Many OEM's and tier one/ two suppliers in aerospace, automotive, rail and power generation industries have chosen us as their solutions partner because of our innovative attitude towards individual challenges and commitment to continual improvement.