Lifting Equipment Transport Trolley
One of our new clients stepped forward requiring us to work on designing and manufacturing a piece of mobile storage equipment to work alongside the Acres product 'Lifting Equipment Storage Cage' on the customer's site to transport the lifting equipment from the static and secure cage to the area in which it is needed to be used
Acres discussed the requirements for the trolley with the customer to get the best solution and specification possible. It was agreed the trolley would use an A-Frame concept to the approximate dimensions (1.5m x 0.85 x 1.7m) this was to help make sure equipment would not fall from the mounting points by using the angle back in the A-Frame. The crucial aspect of the specification was to ensure as much of the framework was enclosed to reduce the amount of surface area exposed to contamination within the site. Therefore, this meant the trolley was supplied with no rubber bump strips, document pockets or fork pockets although we allowed for these to be easily added if required on the design.
This solution comes with  2x Swivel with brake and 2x fixed castor wheels to ensure the operator has the best control when transporting the unit, at the swivel end of the trolley a simple plastic bridge handle was fitted to the side panel for steering. The panels for storage were a bespoke perfo panel made from formed sheet steel for strength and rigidity whilst including the relevant size cutouts to match with the standard hooks and fittings to hold the lifting equipment. By using the common pattern for the cutouts like the smaller perfo panels then the configurations of the equipment on the storage panels are completely interchangeable. The A-Frame was also designed with a lip on both front and back beneath the base of the back to back perfo panels this was just designed as an additional storage area but also which acts as a surface to catch and falling items.
The trolley successfully reduced the manual handling levels of the lifting equipment and provided an easy to use method of transporting the equipment to the work area.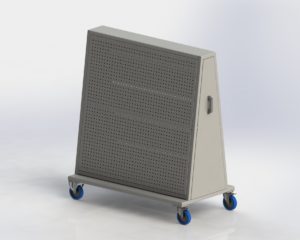 This project involved, design, fabrication, assembly and powder coating.
If you have any kitting, storage or transportation requirements please get in touch and we will work with you to provide the best solution for your needs.
Have a design and development project you want the Acres team to look at? Can't see what you want? Need something different?
Acres Engineering is established as a leader in delivering bespoke creative engineered solutions. Many OEM's and tier one/ two suppliers in aerospace, automotive, rail and power generation industries have chosen us as their solutions partner because of our innovative attitude towards individual challenges and commitment to continual improvement.