Recovery Module Cage.
Designed to reduce the mix of non-conformance parts mixing with production parts.
We received an enquiry to manufacture a Recovery Module Cage from a customer in the aerospace industry.
This product allows the segregation of non-conforming parts and greatly reduces the risk of non-conformance parts mixing with production parts. This new enhanced design removes the door lock and replaces the angle/ mesh door with a laser-cut plate to improve the visibility of parts inside. The interior will feature 3 shelf sections, each to hold 2 off Euro boxes. The original design of a document pocket has been placed to store necessary paperwork.
Acres Engineering anticipated that individuals will place their equipment down in the wrong area. A key success factor for this product is how it can stop unwanted items from being stored with the angled unit top; keeping tools and materials from being misplaced, and saving costs for your business.
We have manufactured a versatile solution that will help with productivity within the workplace. The Recovery Module Cage is accessible for you to protect your products, materials, supplies, or equipment by enclosing them for unloading or loading. You can easily manoeuvre parts with the four swivel and braked castors and a 30mm diameter circular tubed handle concept.
Making adjustments to our designs means we can lower the costs of our products, but still manufacture our most durable and secure high-quality products.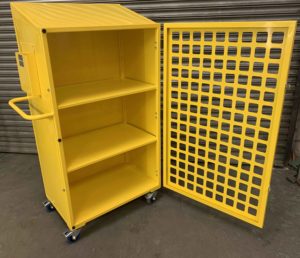 Overall size: 1620mm (H) x 830mm (W) x 570mm (D)
Powder coat paint (RAL)- 1023: Traffic Yellow.
If you are looking for more solutions that could help you within Aerospace; click here to be directed to the page to check out what we've done for businesses like yours.
Project REF: AD-403-2014-03-4
Don't forget to like us on Facebook and check out our Blogs Page for more company updates.
Have a design and development project you want the Acres team to look at? Can't see what you want? Need something different?
Acres Engineering is established as a leader in delivering bespoke creative engineered solutions. Many OEM's and tier one/ two suppliers in aerospace, automotive, rail and power generation industries have chosen us as their solutions partner because of our innovative attitude towards individual challenges and commitment to continual improvement.