The transport stillage has been designed for a large aerospace OEM and is required for protecting blades during transit between sites.
The design is conceptually based an existing product currently widely utilised onsite (also supplied by Acres Engineering) which is referred to as a 'Plate Rack'.
From the core Plate Rack design, we carried out the following design modifications:
>Adjusted the unit size to: 1200mm (L) x 950mm (W)  x 1360mm (O/A H) (approx.)
>Altered slot sizes, each compartment: 40mm high x 360mm wide x 850mm deep
>Each blank to have an individual foam sleeves to protect it whilst in transit
>28 spaces high, 3 rows wide, 84 slots in total.
>Added fork pockets
>Added 4 x lashing down points
>Added 2 x doors (lockable) with inlayed foam
>Added Castors, 2 x fixed and 2 x swivel / braked @ 150mm dia
>6mm far eastern plywood panels on side top and rear panels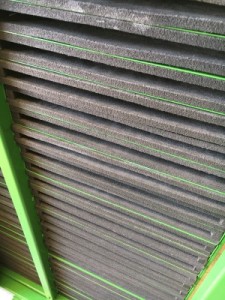 The solution has been powdercoated in RAL 1060  (Middle Grass Green) to provide a hard wearing durable finish.
Acres REF: AD-987-2016-03-1
Have a design and development project you want the Acres team to look at? Can't see what you want? Need something different?
Acres Engineering is established as a leader in delivering bespoke creative engineered solutions. Many OEM's and tier one/ two suppliers in aerospace, automotive, rail and power generation industries have chosen us as their solutions partner because of our innovative attitude towards individual challenges and commitment to continual improvement.