Lunch in the Sun for Acres Employees
Today Acres put on a lunch thanking our staff for ongoing excellent performance and to kick off our '75 years in business' celebrations.
The team had a relaxed time at The Brewhouse situated in the lovely courtyard of Melbourne Hall in Derbyshire. Enjoying antipasto and a range of stone baked pizza's served to them in the sun! The different pizzas, meat and cheese sharer boards and parmesan fries went down an absolute treat with the Acres team.
The Brewhouse situated in the beautiful courtyard of Melbourne Hall in Derbyshire pride themselves on offering some of the best and most unique beers and ciders from all over Europe and The World and have been frequented by the likes of Johnny Vegas.
The lunch was organised by Acres HR Manager Alison Parker who wanted to reward the staff and kick off the celebrations for Acres 75 years in business. Acres also wanted to acknowledge the on going success of the business as it continues to grow and expand.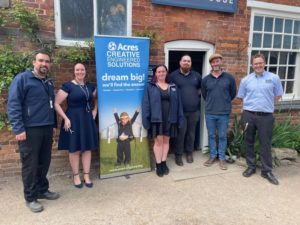 The event was closed out by a speech from Alison and Managing Director Luke Parker emphasising how vital each employee is to the team and the part they all play at Acres. "We do not just fabricate items, we do not just make trolleys and stillages, we help to manufacture aero engines, supercars, trains and everything in between! Exporting £500,000.00 of excellent products to over 15 counties in the financial year 2021-2022.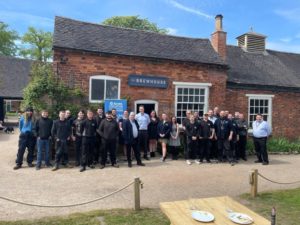 Its always a benefit to be able to host an amazing event and also support local businesses like The Brewhouse as part of our community outreach programme. We are committed to community engagement and our CSR activities.