Front Fender- Body Panel Stillage
Are you looking for a solution that can securely confine body panels of a supercar? Acres Engineering is an established solutions provider and continues to work alongside leading manufacturers within the Automotive Industry.
Front Fender- Body Panel Stillages
Designed for a client in the Automotive Industry, the Front Fender Stillages enclose and protect specific body panels. Whilst, facing challenges to solve how the stillages could secure the body panels; we assessed the best orientation of the panels to ensure it could maximize how many parts could fit internally.
To increase productivity, a reinforced PVC door is attached to Velcro to provide operators with clear visibility of internal components. Fastened handles allow operators to easily detach the PVC door to gain access to the inside.
Featuring, PU material contact points attached to forks to securely accommodate specific body panels. The forks have been designed at an ergonomic height to allow operators to safely load and unload components without injuring themselves.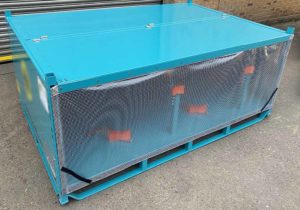 Do you have an upcoming project we could support with? Or have an enquiry for our specialised team? Get in touch below! You can also keep reading about our bespoke designs through our website. Why not take a look at the Hood Parts Stillage, designed to store and transport specific parts of a Supercar?
Project REF: AD-2133-2022-03-3
Don't forget to like us on Facebook and check out our Blogs Page for more company updates.
Why not also take a look at our Automotive Industry Page?
Have a design and development project you want the Acres team to look at? Can't see what you want? Need something different?
Acres Engineering is established as a leader in delivering bespoke creative engineered solutions. Many OEM's and tier one/ two suppliers in aerospace, automotive, rail and power generation industries have chosen us as their solutions partner because of our innovative attitude towards individual challenges and commitment to continual improvement.