Are you looking for a solution to protect parts during transportation? We can help with that! All of our solutions are manufactured to increase the longevity of resources to reduce time and costs.
IP Transport Box
Designed for a client in the Automotive Industry. IP Transport Boxes are used to transport Instrument Panels from Mainland Europe to production in the UK. The plywood boxes use internal timber support frames featuring contact points to securely position components for protection during transportation.
Operators can safely gain access, using the front-end drop-down panel to ergonomically hoist components located internally without leaning into the boxes. Plywood is high-impact resistant ensuring parts secured internally would be protected throughout transportation. Though, timber is known to be a natural anti-corrosive, preventing parts from deterioration.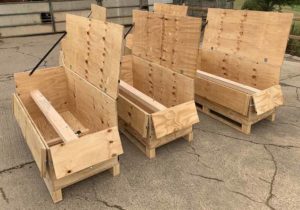 Want to check out more of our solutions? Take a look at our Storage Rack Trolley designed to secure equipment during transportation. Do you want to speak with one of our representatives about an upcoming project? Send us your enquiry details below for someone to be in touch.
Project REF: AD-2168-2022-07-2
Don't forget to like us on Facebook and check out our Blogs Page for more company updates.
Why not also take a look at our Automotive Industry Page?
Have a design and development project you want the Acres team to look at? Can't see what you want? Need something different?
Acres Engineering is established as a leader in delivering bespoke creative engineered solutions. Many OEM's and tier one/ two suppliers in aerospace, automotive, rail and power generation industries have chosen us as their solutions partner because of our innovative attitude towards individual challenges and commitment to continual improvement.