Are your employees ineffectively moving equipment? We have solutions to support with transportation and storage to assist with production and organisation.
Plastic Tray Trolley
A client in the Aerospace Industry enquired about a specific solution that would transport components which are housed on plastic trays.
Our innovative design allows operators to use the trolleys ergonomically, which is proven to increase comfort and productivity. During transportation, plastic trays are securely held in place. However, provide easy glide from position, providing trouble-free accessibility to load and unload parts.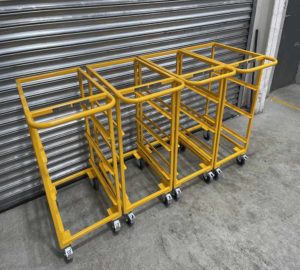 The Plastic Tray Trolley can be easily utilised for the transportation of components and materials or even, non-industrial equipment for catering or cleaning. Although, its adaptable design allows the trolley to store Euro Boxes with a simple glide.
Here at Acres Engineering, we've got tonnes of solutions that may just suit your requirements. It's just a matter of finding it! Why not check out the Picking and Handling Trolley, designed to safely store and transport equipment?
Haven't found what you're looking for? You're a few steps away from possibly finding it! All you've got to do is send in your enquiry below.
Have a design and development project you want the Acres team to look at? Can't see what you want? Need something different?
Acres Engineering is established as a leader in delivering bespoke creative engineered solutions. Many OEM's and tier one/ two suppliers in aerospace, automotive, rail and power generation industries have chosen us as their solutions partner because of our innovative attitude towards individual challenges and commitment to continual improvement.