Stillage Modification and Repurposing
Scope:
Up-cycle and repurpose existing stillages for new function.
The chassis stillages must be able to accommodate the P131 Front and Rear Modules and a Fuel Tank or the P131 Tub.
Solution:
Acres received the existing stillages and then began the modification process:
The stillages were shot blasted to remove all paint and rust. Newly manufactured brackets were fabricated to the existing stillages to suit the new purpose.
The stillages were then powder coated and assembled with new assembly items including materials to prevent metal to metal contact. The completed stillages were then be delivered back to the client.
The benefit of having a multi-purpose stillage is that you don't require the same overall volume of stillages in the loop cycle. This cuts down on footprint required to store the stillages when not in use. It also reduces the number of stillages that will require future maintenance.
By repurposing existing stillages our client is demonstrating their commitment to sustainability and achieving net zero targets. Our client is also benefiting from the cost saving of not manufacturing from raw materials whilst still achieving the desired end result.
All components assembled to the stillage are fully traceable and Acres will have a dedicated part number which can be used to purpose spares or replacements in the event of future maintenance requirements. Acres can also quote to support with PPM when required.
If you would like Acres to take ownership of your stillages and kitting media, please get in touch to see how we can reduce your investment costs when setting up for new product manufacturing.
Project REF: AD-1916-2021-03-1 / 10733-P1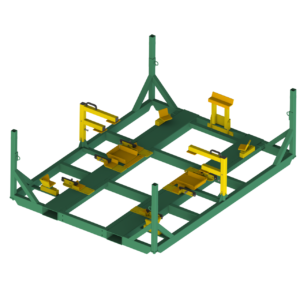 We have lots of different stillage solutions available for numerous applications. Take a look at previous solutions here: https://acres.engineering/solutions/?product_type=stillages-and-storage
Have a design and development project you want the Acres team to look at? Can't see what you want? Need something different?
Acres Engineering is established as a leader in delivering bespoke creative engineered solutions. Many OEM's and tier one/ two suppliers in aerospace, automotive, rail and power generation industries have chosen us as their solutions partner because of our innovative attitude towards individual challenges and commitment to continual improvement.