Cabin Door Lifting Jig
Designed to maintain and support the process of cabin door fitting.
We received a request from our rail industry client to create a Cabin Door Lifting Jig that will support and maintain the fitting of cabin doors onto trains. Previously, it was common for the assembly of door fitting to be exclusively through man power which was ineffective and curbed progression in their method.
Here at Acres Engineering, we manufactured a new Cabin Door Lifting Jig that provides the solution to this issue. Our custom Jig will support the weight of the door during the fitting which reduces the overall time taken. This effectively clears time for other processes in their system. This solution also delivers a substantial health and safety improvement by taking the weight off of the workers to fit the door. As a result it reduces the risk of accidents and casualties. This product can be adapted for various train models and Depots.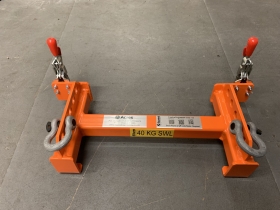 Please get in touch to see how we can reduce your investment costs and create custom solutions when setting up for new product manufacturing.
Acres Engineering Ltd | LinkedIn
We have lots of different solutions available for numerous applications. Take a look at previous solutions here:
Manifold Jig – Acres Engineering
Circular Jig Support – Ø1000mm – Acres Engineering
Have a design and development project you want the Acres team to look at? Can't see what you want? Need something different?
Acres Engineering is established as a leader in delivering bespoke creative engineered solutions. Many OEM's and tier one/ two suppliers in aerospace, automotive, rail and power generation industries have chosen us as their solutions partner because of our innovative attitude towards individual challenges and commitment to continual improvement.