Tailgate Inner Stillage.
Designed to effectively transport and store individual parts.
Our client in the automotive industry approached us with a need. To design a Tailgate Inner Stillage that can securely transport parts to the warehouse.
Here at Acres Engineering we manufactured this Tailgate Inner Stillage with easy and accessible storage for parts. With a small footprint, this Stillage is conveniently transportable and forkliftable for use in any situation, consuming minimal floor space. Each section pulls out to full extension with purposeful spacing so no part is in contact with another. The Tailgate Inner Stillage provides clear access to the parts, resulting in an increased smoothness to the process. This product provides the solution to manufacturing without coming in contact with class A surfaces and the robust structure brings added support for loading. This can be used and manipulated to suit any automotive company's process and can support any system in a variety of industries. Available in branding colours.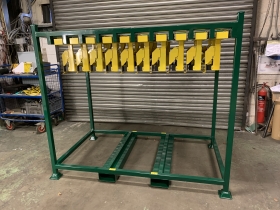 Please get in touch to see how we can reduce your investment costs when setting up for new product manufacturing.
We have lots of different solutions available for numerous applications. Take a look at previous solutions here:
Stillage Modification and Repurposing – Acres Engineering
Project REF: AD-2005-2021-08-1
Don't forget to like us on Facebook and check out our Blogs Page for more company updates.
Why not also take a look at our Automotive Industry Page?
Have a design and development project you want the Acres team to look at? Can't see what you want? Need something different?
Acres Engineering is established as a leader in delivering bespoke creative engineered solutions. Many OEM's and tier one/ two suppliers in aerospace, automotive, rail and power generation industries have chosen us as their solutions partner because of our innovative attitude towards individual challenges and commitment to continual improvement.